or call 816-582-2068
We have no horses available for purchase at this time

Horses sold include
Geldings
Tucker HT - DOB 4/06
(Thee Sandman x Fadjurs Silk)
Now residing in Pearl River Louisiana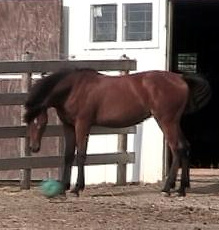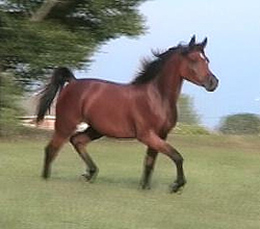 A true classic with noteworthy bloodlines, this charmer is a rich mahogany bay and
like his full siblings is correct and balanced. His head is short with a deep dish and
soft eye. Neck is set high with a fine throatlatch and carried with Fadjur's air of nobility.
Tucker has a sweet disposition, very manageable and easy going. Although just a yearling his substance, ease of movement and extended strides are evident. Add those elements to his long forearms, solid bone, short back and deep girth and you have a future endurance super star.
Click Here for short video clip
------------------------------------------------------------------------------------------------------------------------------------
Des Baarez HT - DOB 4/05
(Imperial Baarez x Desperados Verlys)
Now residing in Troy Missouri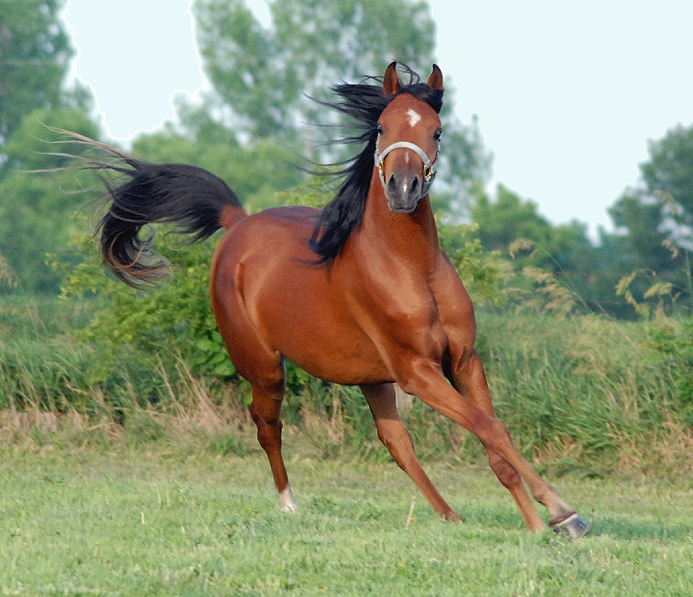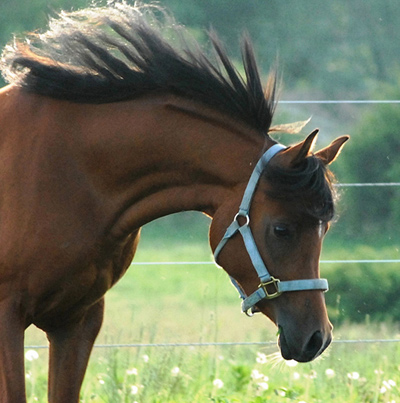 Pictured at 2 Years
Photos By Laurie Brown
This Guy Has It All
He has inherited superb qualities from both sides of his pedigree including long straight legs,
level croup, great shoulder and neck, smooth body and an incredibly beautiful head.
He moves like the perfect costume mount with a smooth, forward, tireless energy.
His exotic, desert look definitely catches attention and makes him a standout.
Dam was Region 9 Champion and US Top Ten Sweepstakes Filly and sire is an
International Champion. Desi is Breeders Sweepstakes and eligible for The Egyptian Event.
Click here for Short Video Clip
-----------------------------------------------------------------------------------------------------------------------------------------
Thee Magicman HT - DOB 6/04
(Thee Sandman x Kheyona)
Now residing in Wykoff Minnesota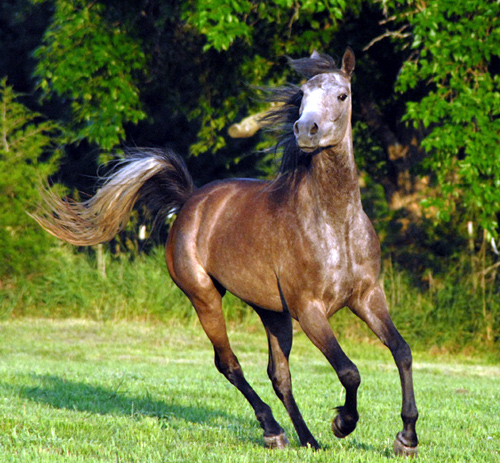 Photo at 3 Years Taken By Laurie Brown
A Thee Desperado and Khemosabi grandson and we can see both in this young gelding.
He has long, straight legs and a long, upright neck with the natural arch Raffon, his great
grandsire, was known for. His eyes are large and well set on a beautiful head.
He has excellent, well-balanced movement and extreme length of stride.
15.1 hands, a no-nonsense gelding with a gentle, affectionate attitude and great disposition.
__________________________________________________________________
Thee Fiddler HT - DOB 4/05
(Thee Sandman x Fadjurs Silk)
Now residing in Paola, Kansas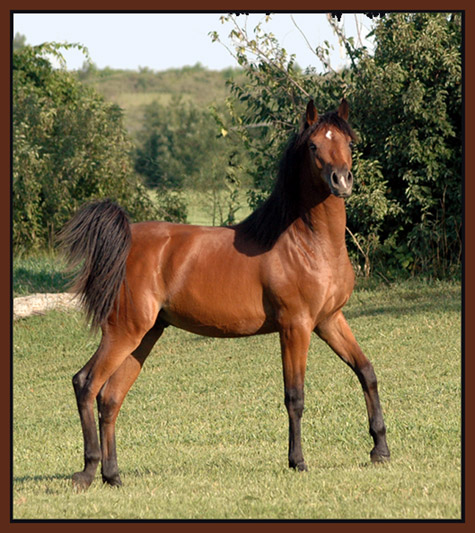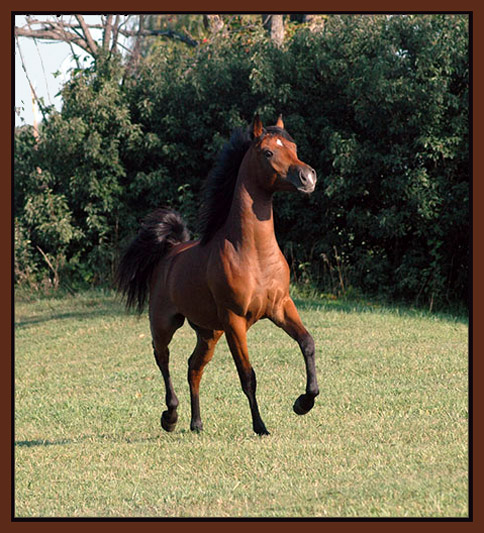 Pictured at 16 Months
Photos By Laurie Brown
Balanced and Beautiful
Fiddler is a perfect representation of his outstanding pedigree and exudes quality.
His Fadjur show attitude is ever present. Big liquid eyes, small muzzle,
fine throatlatch, arched neck and flag tail are just some of his quality attributes.
He is already distinguishing himself with excellent movement perfect for
a western pleasure or trail mount. 14.3 hands.
Click here for Short Video Clip
______________________________________________________________
Sandancer HT - DOB 04/03
(Thee Sandman x August Anne)
Now residing in Silex, Missouri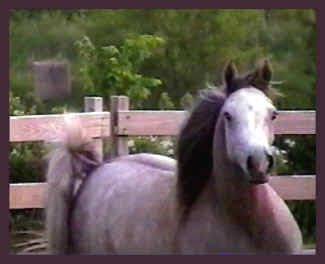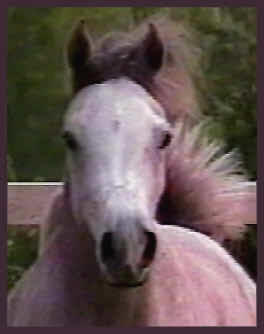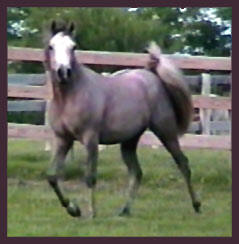 This beautiful halter trained gelding has an engaging personality and true fluid movement with an extended floating reach. I can't say enough nice things about this guy.

Mares
Desperados Verlys - DOB 02/96
(Desperado V x Aerial Moondanse)
Now residing in Muskogee, OK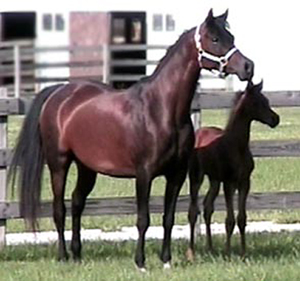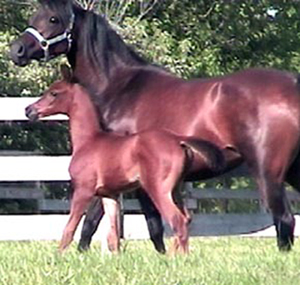 A gorgeous mare that is hard to fault. Professionally trained for Halter and
successfully shown at the National level. She has also been trained under saddle
however has only been used as a broodmare. She has had three outstanding colts,
with an exceptional conception rate via cooled and frozen semen ,with no foaling issues.
Breeders Sweepstakes Nominated.
Click here for more pictures and pedigree
Click here for short video clip
____________________________________________________
Fadjurs Silk - DOB 06/00
(Fadjurs Diego x Fadjurs Shana (El Shaklan))
Now residing in Indianapolis,Indiana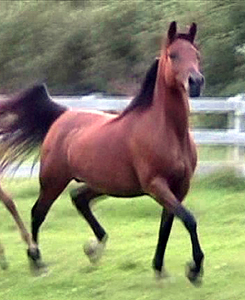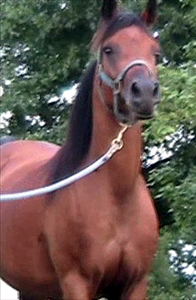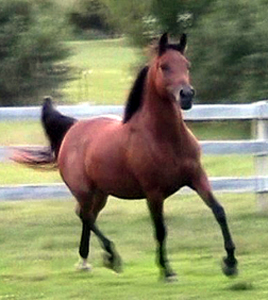 This young mare has both substance and grace; a classic representation of the Jack Tone Ranch breeding program. She is a consistent producer of her best qualities stamping her offspring with presence, beauty, balance, agility, bold and powerful movement and the best of dispositions.
Click here for more pictures and pedigree
Click here for short video clip
_____________________________________________
(Aristo Wildfire x HV Lorelie Lea) (The Egyptian Prince x *Minesota)
Deceased living in Kansas
Both mares represent the best of pedigrees. Anne displays old world beauty
and Lea fluid and graceful movement.
Click On Their Names For More Pictures and Pedigree
Click on the above picture for a Video

Fillies
Thee Fadjurs Silk HT - 04/07 Filly
(Thee Sandman x Fadjurs Silk)
Re-united with Hill Top Arabians in Salem, OR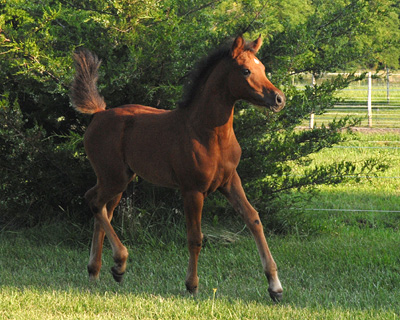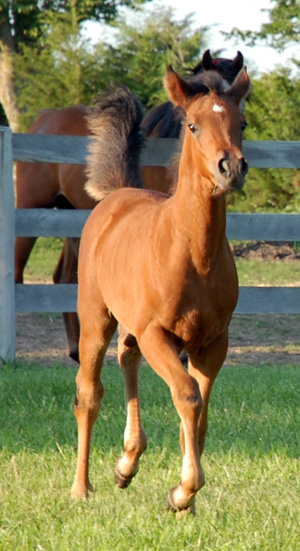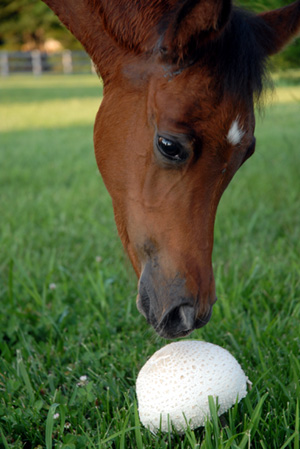 Pictured at 2 months
Photos by Laurie Brown
This little gal is very sweet natured with a beautiful head, huge soft eyes, classic Arabian type, smooth body and nicely shaped up-right neck. She is also an Original Breeders Sweepstake entry eligible for lifetime show payback.
-------------------------------------------------------------------------------
Thee Sandaleena HT - 07/03 Filly
( Thee Sandman x Sweet Surprize)
Living in Lidgerwood North Dakota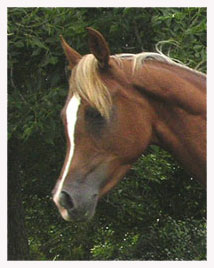 15 Months
She has grown up with Mark and Lori Pfeifer of North Dakota where she attended NDSU with their daughter in an equine science program. She is now the perfect trail mount. See pictures of her adventures in the Album tab


Colts
Ali Savant HT - DOB 5/06
(Jullyen El Jamaal x Desperados Verlys)
Residing in Peoria Arizona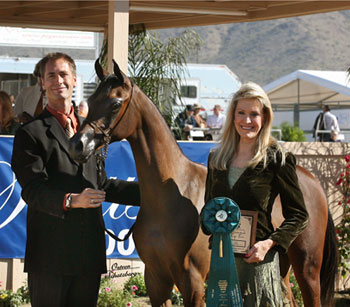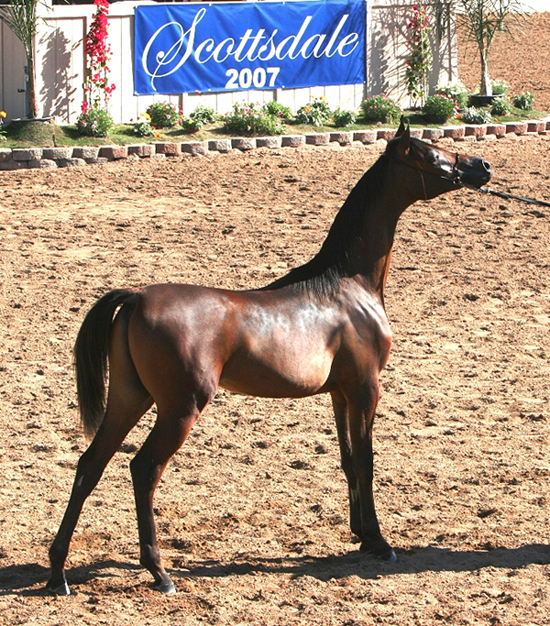 Sweepstakes and US Futurity Nominated
Scottsdale Top Ten Yearling Colts
Region 4 Reserve Champion Breeders Sweepstakes Yearling Colts/Geldings -12 in class
Region 3 Top Three Breeders Sweepstakes Yearling Colts/Geldings -16 in class

Stallion
Now residing in Tucson, Arizona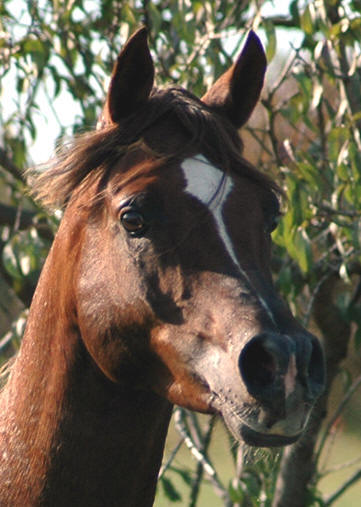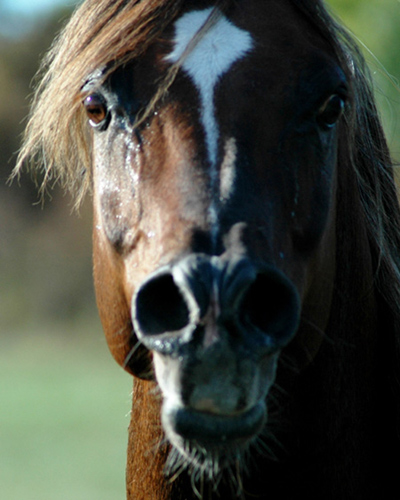 T
hee Sandman was purchased from Minnesota in early 2002 as our foundation stallion. He is the complete package and has all of the qualities
his pedigree has to offer: Length of neck, clean throatlatch, long forearms, strong cannon bone, fluid movement, depth of hip, level croup and an exceptionally beautiful head. He has the tireless, ground -covering trot of the endurance horse with the lung capacity to match. A rich Liver Chestnut 15 hands - He is a joy to have; very generous, affectionate and trusting.
We are extremely pleased with his first foals crops from a variety of mare lines. All are balanced, athletic, smooth-bodied, with pretty heads and so easy to train -
Always Eager To Please.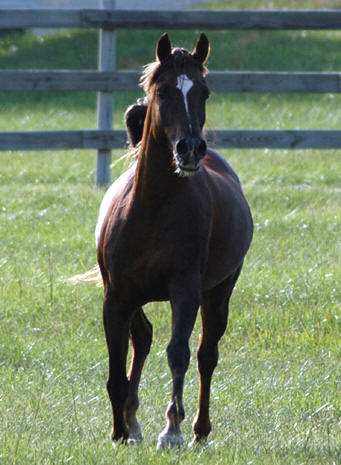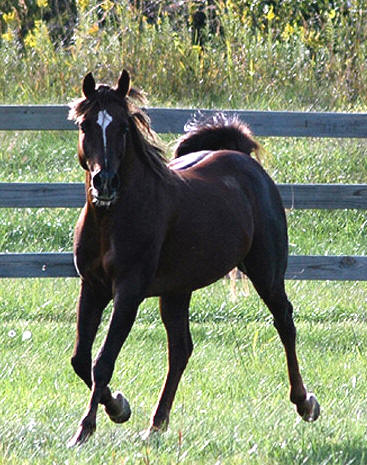 Visit the Stallion Tab for Pictures
Click here for shot video clip

Use the Album Tab to view other Arabians we have sold.